Waves Tides & Currents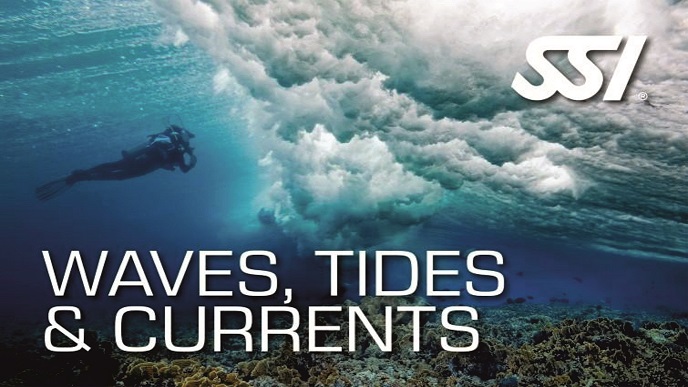 Languages:
Português, Inglês e Espanhol
Guides:
Professional Certified Instructors
Transfers:
10€ / person (round trip)
Insurance:
Diving Insurance
The SSI Waves, Tides and Currents specialty provides students with the knowledge and skills needed to safely dive in a variety of dynamic open water environments.
Intent:
Water motion can have a tremendous effect on your diving experience This specialty gives you the skills and knowledge required to conduct dives from shore, in currents, and in different types of waves.
Requirements for Completion:
- Complete all academic sessions and assessments.
- Complete a final exam with a passing score of at least 80%.
- Complete at least two (2) open water training dives.
Certification:
- Upon completion of all academic and in-water requirements, the SSI Professional may issue the program's digital certification card.
- Certified SSI divers can dive with an equally or more qualified buddy in environments equivalent to their training and within the recommended depth limits of their certifications.
- Students younger than 15 years old will be certified as an SSI Junior Diver in the applicable specialty and can dive under the direct supervision of a dive professional, or with a certified adult, in environments equivalent to their training and within the recommended depth limits.
Requisites:
- Have the following SSI certifications or an equivalent from a recognized training agency: Open Water Diver.
- Medical Clearance for any pre-existing conditions (read, fill and sign the standard Medical Statement).
From / per person
€150.0
Important information
Please Note:
You need to wait for a minimum of 24 hours after your last dive, so please plan your flights and mountain hiking trips accordingly.
Don´t forget to bring:
- Swimwear
- Towel
- Diving certification

Price includes
- All the necessary equipment.
- Dive Instructor.
- Dive insurance.
Price excludes
- Pick up / Drop-off.
Cancellation policy
Subject to favorable weather conditions.
If canceled due to poor weather, you will be given the option of an alternative date or full refund.
The cancellation by the customer within 48 hours prior to the activity will not result on any refund.