React Right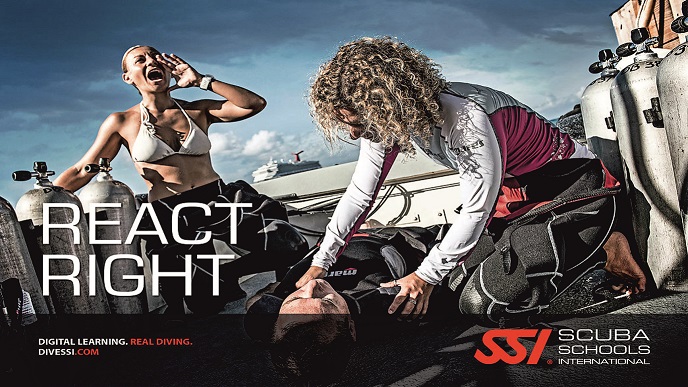 From:
Praia da Vitória or Angra do Heroísmo
To:
Praia da Vitória or Angra do Heroísmo
Languages:
Portuguese, English and Spanish
Guides:
Professional Certified Instructors
Transfers:
10€ / person (round trip)
Insurance:
Diving Insurance
The SSI React Right specialty provides students with the knowledge and training to act as a first responder and provide first aid and CPR, administer oxygen and/or provide Automated External Defibrillation (AED) support in the event of a medical emergency.
Intent:
React Right is SSI's emergency training specialty, consisting of the following basic components: Primary Assessment, First Aid & CPR Skills, Primary Stabilization Techniques, and includes two optional components: Oxygen Administration in Diving Emergencies and Automated External Defibrillation Basics. Students who complete this program earn the SSI React Right specialty certification.
Requirements for Completion:
- Complete academic and practical training scenarios.
- Complete a React Right final exam with a passing score of at least 80%.
Certification:
- Upon completion of all academic and practical training scenario requirements, an SSI React Right Instructor may issue the program's digital certification card.
- SSI React Right certification qualifies the holder to act as a first responder in medical emergencies similar to their training for a period of two years after the certification is issued.
- Certified React Right divers may use the React Right certification to fulfill the prerequisites for the SSI Diver Stress & Rescue certification, and all SSI professional training programs.
Requisites:
- Be at least 12 years old.
From / per person
€150.0
Important information
Price includes
- All the necessary equipment.
- React Right Instructor.

Price excludes
- Pick up / Drop-off.
Cancellation policy
-The cancellation by the customer within 48 hours prior to the activity will not result on any refund.